Halloween is one of the most stressful and frustrating times of the year with food allergies. Peanuts, Dairy, Egg, Soy.. you name the allergen(s) you are avoiding and Halloween is filled with them! And for many children Halloween isn't just one day. There are fall festivals, school parties, neighborhood parties, etc.
Can I be brutally honest here? Halloween seriously stresses me out, frustrates me, makes me sad during many moments, and I really don't look forward to it. There. I said it. Why you ask?
My spunky and precious little girl loves to dress up, loves games, and loves the idea of Halloween. But when she gets a note home from school saying they are having a "letter hunt" for Halloween, and all the kids will be searching for Tootsie Rolls, Twix, Oreos, etc.. For every other child this sounds great! But for my daughter, this means she will be running around hunting for treats she can't eat, and then have to give them back while she sees all the other kids eating and enjoying their finds. Makes me so sad. and frustrated. This is just one of many situations we deal with. It just breaks my heart for Collins..and all children with food allergies. We participate in the Teal Pumpkin Project, but not many people in our area do. So, usually about 95% of the treats she gets that night I have to take away from her :( I do have a trade out bag of "Collins Kosher" treats that I give her later, but I know its not as fun or exciting (but hey- I do the best I can!).
So this year we decided to just stare Halloween right in the face, and make Collins' 5th birthday party a...Halloween Theme! Can ya believe it?! The lady who gets anxiety just thinking of Halloween decided to have a Halloween themed party. Crazy, but brilliant if I do say so myself! We made her party full of Halloween fun and filled with treats and goodies..but EVERYTHING was safe for her to eat! It was awesome to see her just run around, be a kid, play games, eat whatever she wanted and never once have to worry if she will have a reaction and never once tell her she can't have something or hear her ask if she is allergic to the candy and food. It made all the work I put into the party 100% worth it!!
Here are some of the things we had at the party:
Cupcakes (Duncan Hines classic yellow and devils food made with Ener-G Egg Replacer for eggs and safflower oil instead of veg. oil) with buttercream and chocolate fudge icing (Soy Free Earth Balance for butter and Silk Original Almond Milk for milk)
Spiders! (publix greenwise golden round crackers, brown sugar, smooth almond butter, thin pretzel sticks, enjoy life chocolate chips). Mix almond butter and brown sugar. Place a spoonfull ontop of one cracker. break about 1/4 of the end of 6 pretzel sticks. place 3 sticks on each side of cracker (to make 'legs'). Place cracker on top like a sandwich. dab a small amount of almond butter sugar mixture onto a chocolate chip or a raisin (its easiest if you apply with a toothpick). Voila! Spider Snacks!
Clementines or Mandarin oranges with faces drawn on
Chips
Utz Halloween Pretzels
Turkey Dog Mummies (Pilsbury regular crescent rolls, Oscar Mayer Selects Turkey Dogs).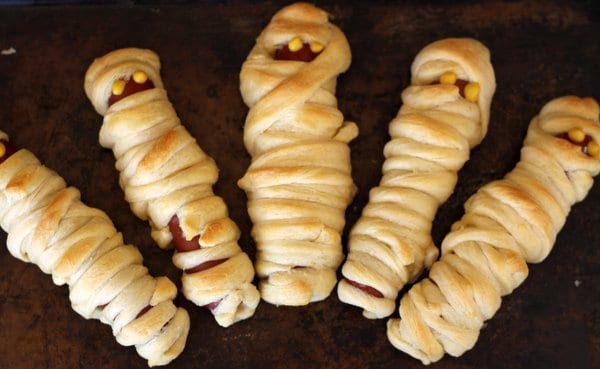 Jack-o-lantern veggie tray (baby carrots, celery, hummus, 2 black olives, broccoli). I didn't get this set out in time, so I don't have a picture but this but I'm going to post a picture of a similar idea. I did carrots around, two small circular dishes to put hummus in for eye balls, then placed one black olive in the middle for the iris, broccoli stem and celery for the nose and mouth
Candy Corn Cotton Candy- I actually found this at the Dollar Tree!
Dum Dums and Yum Earth sucker ghosts (draw faces on facial tissue, place over the sucker, tie a string or thin ribbon underneath sucker)
Jet Puffed Candy Corn Marshmallows
Monster Hands:Orville Reddenbacher's Simply Salted Popcorn in plastic monster hand gloves from Oriental Trading ( you could also just use clear food service gloves)
Witches Brew! fill plastic ice trays with any juice or punch of choice, and put a couple of allergy friendly gummy worms in each cube and freeze. Place a a very large bowl or bucket for your punch inside an even larger bowl or bucket. carefully place dry ice around the outside of the inside bowl. Fill your inside bowl with punch and ice cubes. spritz water on your dry ice to create fog.
Pinata what child doesn't love a good pinata! I purchased treat bags for the kids, spray painted a pinata shaped like a five black (to go with our halloween theme), and filled it will all kinds of Collins friendly treats- Surf Sweets gummies, Yum Earth gummy bears and worms and suckers, dum dums, bouncy balls, vampire teeth, bubbles, stickers, skittles, glow bracelets, pretzel bags, tattoos, tiny play dough containers, slap bracelets, candy rings, candy bracelets.
The party was at a playground, so we didn't do a ton of other activites. The kids Painted little pumpkins (which they all seemed to really like). We Played wrap the mummy- each child got a partner and they received one roll of toilet paper. On the word "mummy!" the partner that was the wrapper would wrap the other child (mummy) as fast as possible. The first group done wins!
Oh! And I had some Monster Repellent to spray on the kids to keep the monsters away during the party (aka temporary hair and body glitter)
Food allergies can be tricky (pun intended) during the Halloween season, but I'm so happy Collins was able to celebrate her birthday AND Halloween this year with all of her friends!
Hope you all have a happy and safe Halloween!!
Leah
P.S
For anyone interested in participating in the Teal Pumpkin Project, it is so simple!! you don't have to paint a teal pumpkin, but i would print out a flyer from FARE. Non food treats can be found in the halloween section in Michaels, Target (they also carry yum earth and surf sweet allergy safe candy!!), Dollar Tree,Walmart and Oriental Trading.
Here is the link for the free flyers to print for the Teal Pumpkin Project:
TEAL